Danno, so called from a well-known line in Hawaii Five-O "Book 'em, Danno!", is the creation of mastermind and master-punster Fahim Farook. Danno is an ebook reader designed specifically for the iOS (iPhone, iPad) and Android mobile platforms with all the features authors, bookworms, and casual readers alike will demand.
Do you have a book you'd like to publish to the iOS and/or Android platforms? With Danno, we can help. Contact us now for a quote.
Almost anything that can be done with standard html, we can duplicate in Danno.
Works with html, allowing for formatting such as italics, bold,

underline

, etc.. We can make the ebook look exactly how the author intended.
Add images,
Add internal or external links.
Multi-books ready. Danno allows publishing of multi-book collections whether it's three or fifteen books in a series or a collection of books, stories, poems, or a combination thereof.
Searchability. Search for given words and they'll be highlighted throughout the document. Navigation buttons move the reader to the next or previous instance of that word.
Intuitive, easy-to-use design. Danno's user-friendly design makes the most of your screen real estate. One navigation bar provides navigation within a chapter as well as navigation within the book or navigation from one chapter to another as well as the search feature. More tools are available through the pop-down toolbar, such as increasing or decreasing text size or returning to the table of contents.
Remembers your last visited location and opens up to that page automatically upon ebook start.
Danno is flexible enough to meet the most demanding needs.
Danno provides a richer, more enjoyable, unobtrusive reading experience. Danno doesn't let technology get in the way of enjoying a good book, but rather, enhances it.
If you need an ebook produced, contact us today for a quote.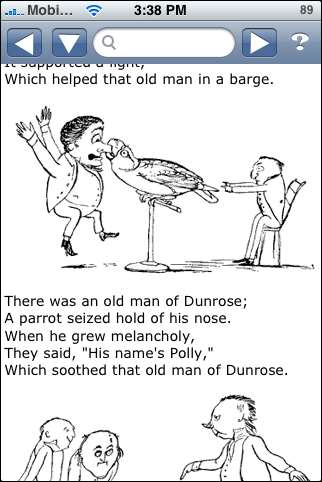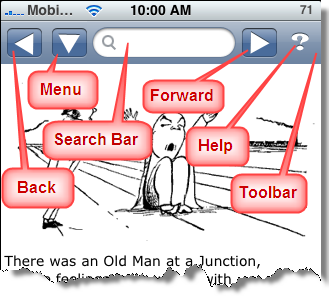 With our Danno ebook reader application, we can convert your book into an ebook for the iOS and/or Android platforms. Contact us now for a quote.