CookieCal Lite can be downloaded at no cost through the Apple iTunes Store.
CookieCal Lite is a useful utility for cooks everywhere, making converting temperatures a breeze!Whether you need to convert Fahrenheit to Celsius or to Gas Marks, or to find out what that recipe means by "moderately hot oven" or "warm oven", CookieCal Lite is your answer! For that matter, converting a temperature between Celsius, Fahrenheit, and Kelvin is also easy.
Whether you're a casual home cook, a foodie, a cooking student, or a chef, you'll find CookieCal to be an invaluable tool.
CookieCal Lite is the free, cut-down version of CookieCal. If you're looking for an application that will help you convert your 4 tablespoons of onions into grams, or 150 grams of breadcrumbs into cups, or 1/3 cup of oil into tablespoons, look no further than CookieCal, also available on the Apple iTunes Store.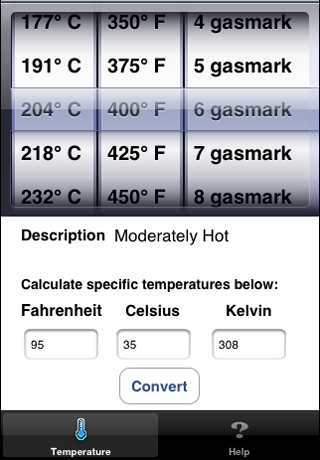 To convert oven temperatures, simply slide one of the picker colums up or down and the other two will follow suite.
To convert exact temperatures, simply enter a temperature into one of the temperature field, touch Convert, and the other fields will be populated with the correct temperature.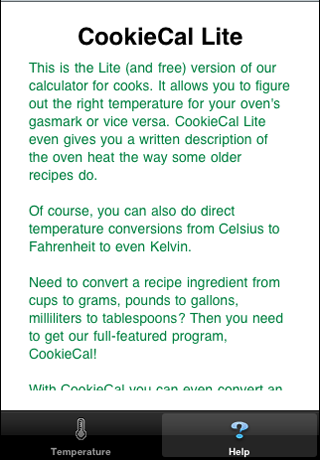 Support for CookieCal Lite
If you have any questions about CookieCal Lite, experience any problems, or have any comments or suggestions, please feel free to visit our support forums.