CookieCal is available for purchase through the Apple iTunes Store.
CookieCal is a useful utility for cooks everywhere, making converting temperatures, or volumes and weights for ingredients a breeze! Whether you're a casual home cook, a foodie, a cooking student, or a chef, you'll find CookieCal to be an invaluable tool.
CookieCal Lite is the lite version of CookieCal and features the Temperatures Tab only.
Temperature Tab
Have a recipe that shows a cooking temperature in Fahrenheit, but your oven shows gas marks only? Or the recipe shows Celsius but you need Fahrenheit? CookieCal can show you the equivalent Celsius, Fahrenheit, or gas mark for all of the most common oven temperatures. CookieCal even provides you with a written description of the oven heat to help with older recipes.
Additionally, you can enter a temperature in Fahrenheit, Celsius, or Kelvin, and CookieCal will automatically convert that temperature to the other two.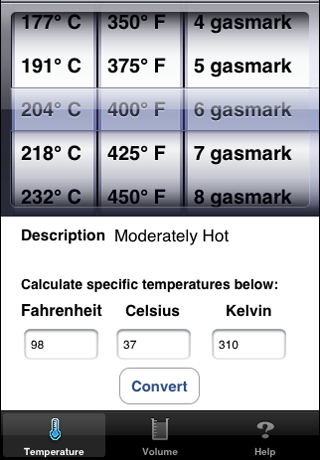 Volume / Weight Tab
Need to convert a recipe ingredient from cups to grams, pounds to gallons, milliliters to tablespoons? CookieCal easily converts between different types of volume measurements, weight measurements, or even between volume and weight measurements.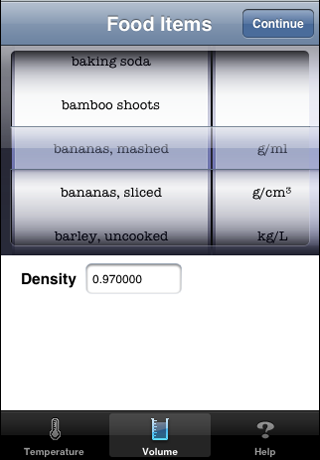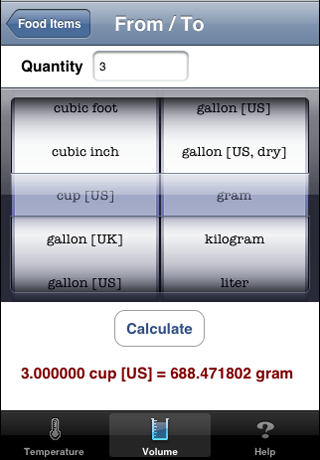 Need to convert an ingredient between volume and weight measurements that isn't listed? As long as you have the density for that ingredient, conversion with CookieCal is a breeze! Simply enter the density figure into the density box and CookieCal will do the rest!
CookieCal converts amounts between
cubic centimeter
cubic meter
cubic foot
cubic inch
cup (US)
gallon – UK, US, or US dry
kilogram
liter
milligram
milliliter
ounce – UK liquid, US liquid, or weight
pint – UK, US, or US dry
pound
quart – UK, US, or US dry
tablespoon – UK or US
teaspoon – UK or US
Help
Help provides basic information on how to use CookieCal.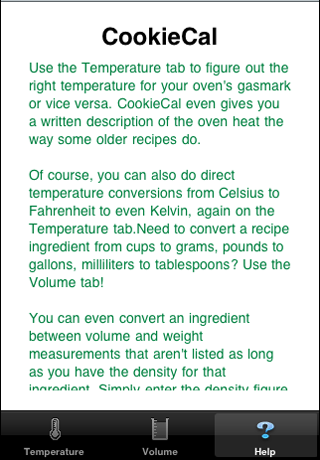 Support for CookieCal
If you have any questions about CookieCal, experience any problems, or have any comments or suggestions, please feel free to visit our support forums.