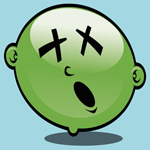 FOR IMMEDIATE RELEASE
Symptomatic Is Now Available.
Auckland, New Zealand 23 April 2011 – RookSoft Ltd. of Auckland, New Zealand released Symptomatic, an iPhone application designed to help a person keep track of their symptoms. Symptomatic is available for download from the Apple iTunes App Store now.
"Symptomatic can help a person track their symptoms, thereby tracking down the triggers," says Fahim Farook, CEO and developer at RookSoft. "Symptomatic can track all sorts of things – foods eaten, medications taken, new places you go to, all to help you figure out patterns to your symptoms and get to the cause."
With Symptomatic, a person can track :
Contacts: Any unusual plant, animal, or thing that you might have come in contact with.
Events: A gathering or event such as a party that you might have attended.
Food: Any unusual food item that you might have eaten.
Medications: Any medication taken by you.
Symptoms: A symptom you experience rather than an event which might have led to the symptom.
Travel: Did you travel to a new country or place?
Weather: Any differences in weather that might affect you.
Read more about Symptomatic at http://rooksoft.sg/symptomatic/ or download Symptomatic at http://itunes.apple.com/us/app/symptomatic/id430749399?mt=8.



About RookSoft Ltd.
RookSoft Ltd. is a mobile applications company in Auckland, New Zealand. RookSoft has nearly 20 iOS (iPhone, iPad) apps on the Apple iTunes app store and has completed an addition 40 or more iOS applications for clients from around the world, including the US, UK, Bahrain, Australia, and The Netherlands. RookSoft's CEO, Fahim Farook, has been programming for 20 years and has worked in a variety of diverse languages and platforms.
To find out more about RookSoft, please visit RookSoft.sg.
Contact:
Laurie Ashton Farook
[email protected]
###