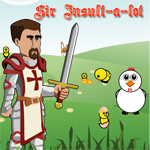 FOR IMMEDIATE RELEASE
Sir Insult-a-lot Version 2.0 Is Now Available.
Auckland, New Zealand 26 April 2011 – RookSoft Ltd. of Auckland, New Zealand released version 2.0 of Sir Insult-a-lot, an iPhone application that can generate up to 20 million insults on the fly. Sir Insult-a-lot version 2.0 is now available for download from the Apple iTunes App Store.
"Sir Insult-a-lot is a fun word game for generating unique insults using uncommon and obscure words," says Fahim Farook, CEO and developer at RookSoft. "Sir Insult-a-lot can also help a person increase their verbal skills."
What's new in Sir Insult-a-lot version 2.0
Insults as part of user feedback.
Ability to share saved insults later.
Completely re-vamped user interface.
New high-res graphics for retina display.
Added the ability to share insults via Twitter, Facebook, Tumblr, and e-mail.
Provides support for sending bug reports and feature requests to the developer from right within the application.
Features:
Over 20 million unique insults on the fly
Share your insults via Twitter, Facebook, Tumblr, and email.
Save favourite insults and even share them later.
Hours and hours and hours of fun.
Read more about Sir Insult-a-lot at http://rooksoft.sg/sir-insult-a-lot/ or download Sir Insult-a-lot by clicking on the button below.

About RookSoft Ltd.
RookSoft Ltd. is a mobile applications company in Auckland, New Zealand. RookSoft has nearly 20 iOS (iPhone, iPad) apps on the Apple iTunes app store and has completed an additional 40 or more iOS applications for clients from around the world, including the US, UK, Bahrain, Australia, and The Netherlands. RookSoft's CEO, Fahim Farook, has been programming for 20 years and has worked in a variety of diverse languages and platforms.
To find out more about RookSoft, please visit RookSoft.sg.
Contact:
Laurie Ashton Farook
[email protected]
###