Edward Lear (1812-1888) was renowned for his literary nonsense and was responsible for popularizing the form of poetry known as the limerick. In addition to being a poet, he was also an author, illustrator, and artist.
A Book of Nonsense by Edward Lear was originally published in 1846 and is now here, in ebook form, complete with all the original pictures and verses. All told, there are 112 delightfully entertaining limericks, each complete with its own original image.
Starting with…
There was an Old Man with a nose,
Who said, "If you choose to suppose
That my nose is too long,
You are certainly wrong!"
That remarkable Man with a nose.
Our e-book reader, Danno, unlike most e-book readers available for the iPhone, allows us to embed images throughout the text, allowing you, the reader, to see A Book of Nonsense exactly as Edward Lear intended it to be seen and to enjoy his fascinating and humourous illustrations, perfectly matched to each nonsense poem.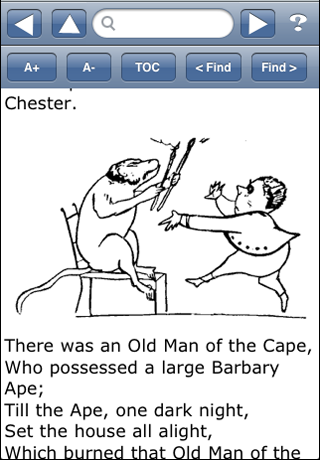 Resizing text so it's either smaller or larger, depending on your preferences, is easy, as is resizing images to see them in greater detail.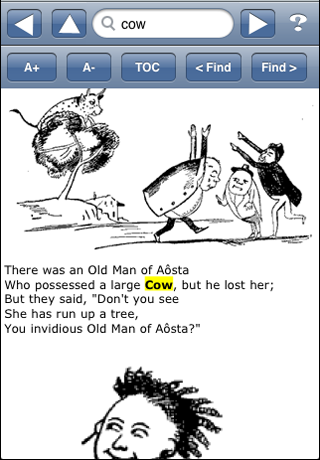 Need to search for text? That's easy, too, and the search results are highlighted in yellow for your convenience. Use the Find Previous and Find Next buttons to find other instances of your search term.
A Book of Nonsense by Edward Lear is presented using our Danno e-Book Reader. For Danno's full feature set as an e-book reader, please follow this link.
Support for A Book of Nonsense by Edward Lear
If you have any questions about A Book of Nonsense by Edward Lear, experience any problems, or have any comments or suggestions, please feel free to visit our support forums.