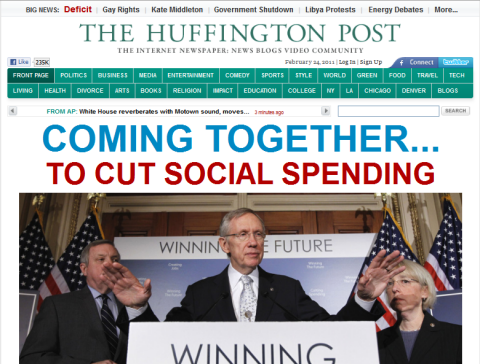 The Huffington Post was founded by Arianna Huffington, Kenneth Lerer, and Jonah Peretti in May 2005. Since its founding, it's become a major source of news and commentary for the US public, ranking 20th most popular website in the USA and 80th most popular website worldwide according to Alexa.com.
The Huffington Post features over 3,000 bloggers including Carole Bayer Sager, Barack Obama, Hillary Clinton, Michael Moore, Madonna, Alec Baldwin, Norman Mailer, John Cusack, Nora Ephron, Madeleine Albright, Robert Redford, Neil Young, Rahm Emanuel, Albert Brooks, Mia Farrow, Edward Kennedy, Nancy Pelosi, Jamie Lee Curtis, Ryan Reynolds, Donna Karan, Donatella Versace, Bill Maher, Larry Gelbart, and Stephen Covey.
In February 2011, AOL announced its intention to acquire The Huffington Post with Arianna Huffington to become the president and editor-in-chief of The Huffington Post Media Group, which includes The Huffington Post and existing AOL properties Engadget, TechCrunch, Moviefone, MapQuest, Black Voices, PopEater, AOL Music, AOL Latino, AutoBlog, Patch, and StyleList. The Huffington Post was acquired in March 2011 by AOL for US$315 million.
In addition to developing The Huffington Post iPad app from version 2.0 to 3.0, RookSoft also contributed to the development of The Huffington Post's iPhone app.
Projects: